Dr. Kirscher believes it's important to be involved in the local community, where she has volunteered her time in treating military personnel and veterans as well as volunteering abroad.
In July of 2017, my daughter and I traveled to the Mbale district of Uganda, five hours from the capital city of Kampala, partnered with a dental team to serve the dental needs in the Abayudaya Tribe. The Abayudaya (Abayudaya is Luganda for "People of Judah") are a community in eastern Uganda who practice Judaism.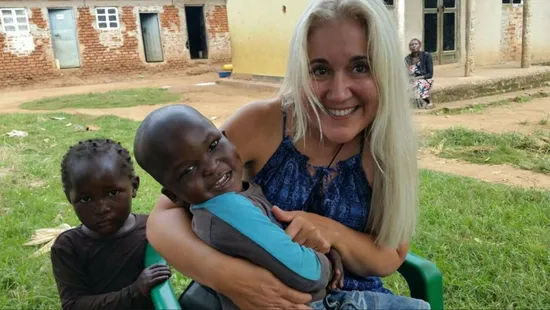 Their population is estimated at 2000-3000, and like their neighbors, they are subsistence farmers. I knew of volunteers that had worked with the Abayudaya for various periods of time, but nothing really prepared me for the warm welcome we received from the children, teenagers, adults, and elders with whom we had the privilege of meeting during our stay.
We initially thought we would be doing a lot of basic dentistry, extractions and caring for poorly maintained dentition, which we had our fair share, but the scene took a turn when our female cook, Rachael (who making us lunch every day) smiled and we noticed that she had one of her front teeth broken in half. For four years, many dental volunteers offered to repair her tooth, but she would not let anyone touch her. As I was taking to her, I informed her that I could repair her tooth with no anesthetic and no drilling. She almost couldn't believe it, but she had nothing to lose. Sadly, I was so excited to cosmetically bond her tooth with sculptable resin, that I never thought to take a "before" picture, but this "after" picture says a thousand words. I am told that her tooth is still in good shape and that she is still smiling.
After her amazing transformation, I had more than one person requesting cosmetic "no anesthetic, no drilling" procedures on their teeth. It was very satisfying for me and life changing for them.
God gives us special gifts and talents, so we can live fully for Him. What a gratifying experience it was for all of the dental volunteers, and how appreciative the people were for our visit.
In the midst of all this, my daughter's life was also touched. When we arrived back home, she made the decision to apply to dental school (in lieu of medical school) and was accepted. Hopefully, she will join my practice in 2024.
In believe in treating my patients as I would like to be treated, and I look at them as friends and family. I hope my daughter will love dentistry as much as I have loved it. It has been truly rewarding.